Mermaid Retreats
Lead your mermaid dreams into reality.
Join me on a sailing adventure around the tropical Fijian islands where we will explore the wondrous blue sea, enjoy the sweet benefits of a plastic free lifestyle, and melt into a juicy yoga practice to keep us limber on this trip of a lifetime.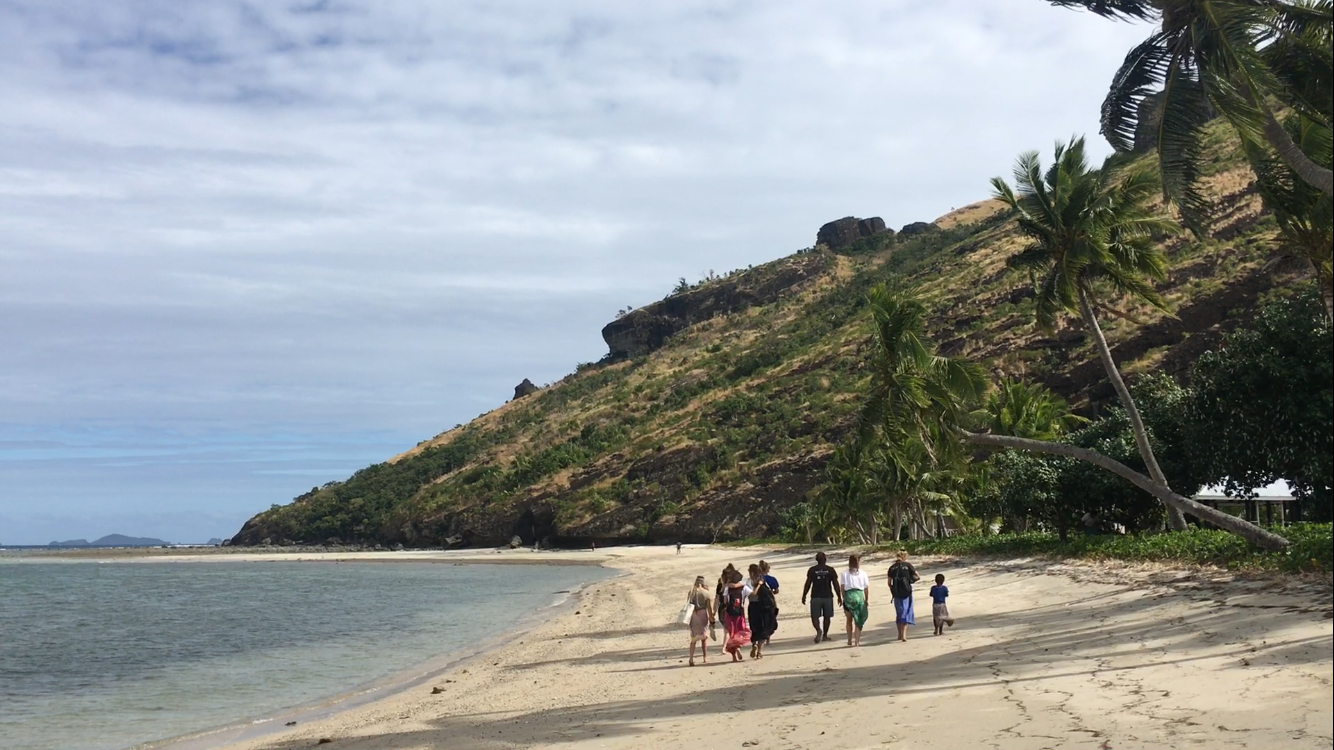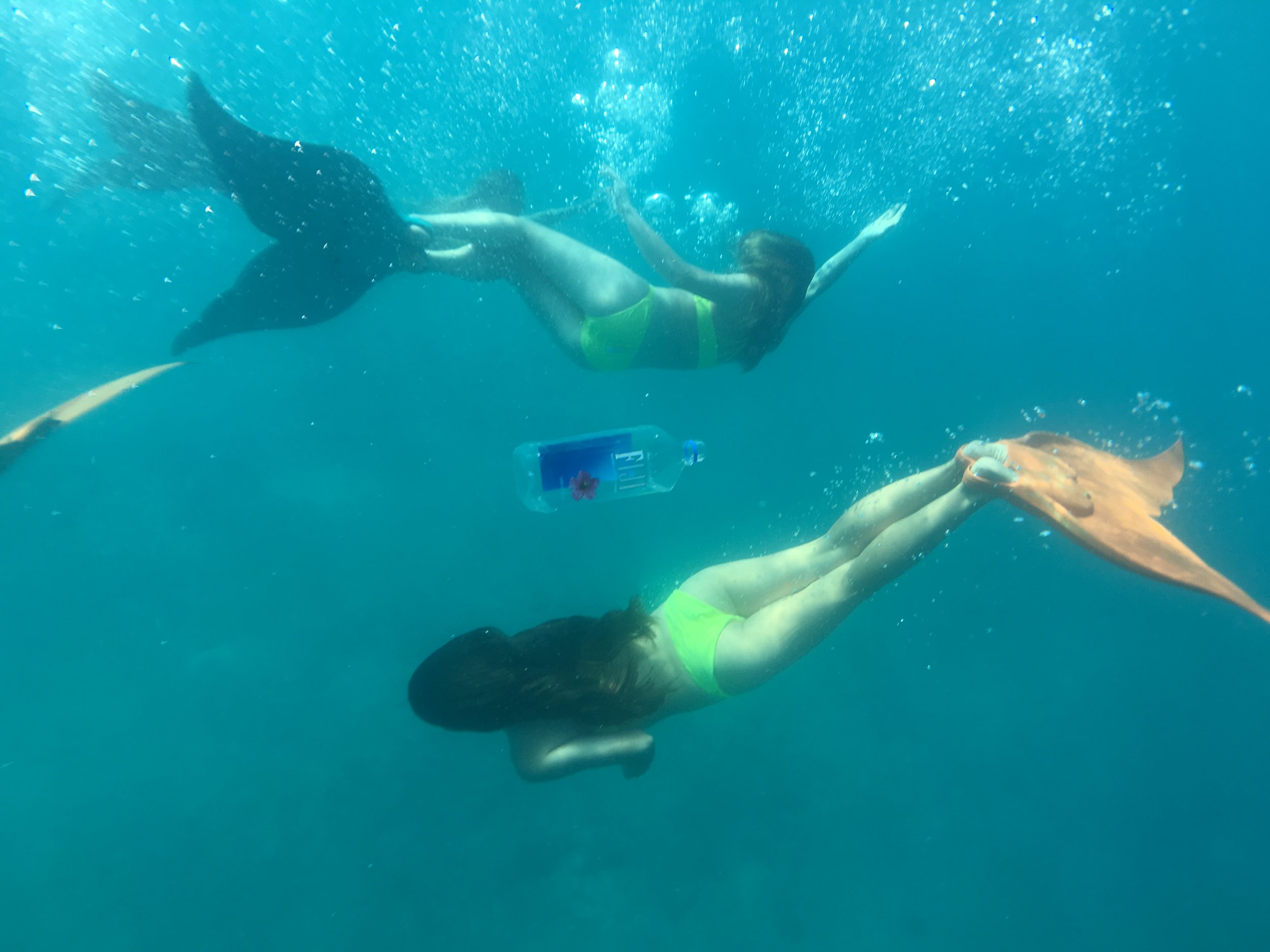 THE FIJI SAILING MERMAID RETREAT • May 2019 (Specific Dates TBC, express interest NOW for your preference)
ITINERARY (subject to change due to weather or other circumstances)
DAY 1
10 AM • Pick up from Nadi, Airport • Visit local markets • Kava Tasting with Locals
AFTERNOON • Sail to Malolo Island: WELCOME TO PARADISE! • Lunch • Information on local Fijian Eco Systems & Marine Debris issues from Green Peace Pacific
EVENING • Nature Walk & Vinyasa Yoga • Dinner • Introductions, Plastics Discussion & Intention Setting
DAY 2
MORNING • Sunrise meditation • Wake Up Swim & Snorkel in mermaid Fins • Breakfast
MIDDAY • Yoga on the sand island • Lunch • Sail • Plastic Free Workshop to De-Plastic Your Bathroom: Make Our Own Toothpaste, Deodorant, Insect Repellent, Shampoo & Conditioner, Sunscreen, Body Scrub
EVENING • Dinner • New Moon Meditation
DAY 3
MORNING • Yoga & Meditation • Breakfast • Beach Cleanup
MIDDAY • Snorkel • Lunch • Separation of plastics & Data Input with Tangaroa Blue
EVENING • Dinner • Open discussion & Idea Share on what we experienced that day • Evening star gazing
DAY 4
Visit Village • Mermaid Crafting Workshop
DAY 5
MORNING • Meditation • Mermaid Snorkel • Hike
MIDDAY • Sail • Lunch • Plastic Free Workshop: De-Plastic Your Kitchen
EVENING • Yoga • Dinner • Night Swim
DAY 6
MORNING • Meditation• Morning Swim • Yoga on the beach • Beach Clean
MIDDAY • Mermaid Photoshoot • Lunch
EVENING • Photo highlights • Closing Ceremony, Big Ideas, & Intention Setting • Dinner Out
DAY 7
MORNING • Swim • Breakfast • Meditation • Yoga • Love Workshop
MIDDAY • Lunch • Sail to Port • Check-out • Transfers to Nadi international airport
Not your average yoga retreat. This unique adventure holiday is ideal for ocean loving mermaids wanting an immersive and unique experience in tropical waters and lush lands. Incorporating plenty of underwater time for exploring and interacting with sea life! As well as important conservation efforts to clean beaches, learn to travel without disposable plastics, hear about important local issues from the Head of Green Peace Pacific! You choose your activities and level of involvement, learn from the sailing crew and hoist some sails or relax in the nets with a book while we explore true paradise.
This is your time.
If not now, when?
What are the dates? These are TBC. If you are keen to come, please express interest for the dates that work best for you and I can try to make those work as I book the yacht.
How many days? 7
Where is the location? FIJI! (Fly into Nadi, Fiji to board the catamaran in Port Denarau.)
Note: Due to the limited number of spots on this boat and the high demand of women wanting to attend, please get in touch ASAP if this calls to you. I don't want anyone to miss out, but it's inevitable if you do not secure your spot with the deposit or pay in full!
We love men, but this is for Women Only. Must be at least 18.
Who are the facilitators?
Kate Nelson
Kate's golden edge is to integrate fluid mermaid magic in with the environmental movement, reinventing conservation and aiding the collective shift through positive energy and luxury adventure. Kate feels called here in this lifetime to support the awakening of women leaders while helping them achieve even greater outcomes for their purpose, their community, and the planet.
Kate strives for mass global shift through feminine, fluid empowered PLAY. By releasing into childlike joy through adventure and "mermaiding" she opens hearts and minds to a new way of being. She has taught over 1 million people the skills to let go of the synthetic way of life, products, and relationships to return back to the organic and natural. Having led transformational adventures to exotic locations for women from all over the world and different backgrounds, she is consistent in her results. Creating powerful, lasting change in participants and leaving the visited location better than she found it. The Give Back Program is now over a decade old. Under this program Kate has worked along California legislators on the successful plastic bag ban campaign in California, she has sat on the board of Advisors to the Australian Minister of the Environment, worked on plastic pollution campaigns for GreenPeace, San Diego Coastkeeper, Surfrider Foundation, and founded the non-profit organisation Save the Mermaids in 2009.
Inquire:
PHONE : +61 411 893 543
EMAIL :MERMAID@IQUITPLASTICS.COM
Payment can happen in a number of ways. You can get the best price by paying in full ASAP. Once the limited "Early Mermaid" tiered pricing sells out, then the retreat goes to full price.
You can secure your spot with the deposit. This deposit holds your place on the boat, but does not guarantee what tiered pricing will remain when you are ready to pay the remaining amount and you will be required to meet that price.
PAYMENT PLANS AVAILABLE: I don't want to exclude anyone, so if you would struggle to pay up front, please get in touch with a proposed payment plan for me to consider. I am so open to working with you to make this happen for you.
Retreat Deposit
I am IN!
Save my spot!
I am collecting sand dollars & getting my shells in a row!
I realise that there are different price tiers available and that when I can pay the full amount, I am able to take advantage of the lowest remaining price tier. For example, if when I am ready to pay full price only second-tier retreat price remains, I will pay this amount. This incentivises earlier booking and helps Mermaid secure the retreat plans!
(Price is in USD)
Our catamaran is crewed and outfitted with daily supplies and snorkelling gear, but you are encouraged to bring your own. Definitely bring your own yoga mat and towels. Accommodation, meals, and airport transfers are provided.
We take all steps to ensure your safety, however sailing and adventure activities do have risks. We do not control the weather, though will work with it to bring you the best possible experience each day. It is recommend you have private travel insurance for any unforeseen circumstances. This also means the itinerary is subject to change on a daily if not hourly basis. Being on a sailboat in the ocean means we are at the mercy of the weather, although all conditions are magic in Fiji, we appreciate your flexibility as we adjust our schedule to ensure all activities fit!
ALL MEALS on our retreat are vegetarian. Most breakfasts will be an array of fresh fruits and Lunch and Dinner will be Ayurvedic Indian inspired. Please get in touch ASAP with specific dietary requests, concerns, & questions! There is the option for fresh seafood and also for Vegan.
If you arrive early or wish to stay later, I recommend Fiji Beach House , which is a cheap, 100 km bus ride from Nadi and the airport.
Get in touch if you have any questions about what to bring and do let us know if you have your own snorkel mask, fins, and/or jars you would like to bring for our plastic free workshop, so we can account for what to have onboard!
Prepare to be salty, sandy, sweaty, & stunned by the magic of the FIJIAN underwater wonderland!
What do we do?
Our 7 day program will entail gentle introduction to meditation and yoga practice to suit the group. Awakening and deepening our connection to body through movement and breath. In our stillness, allowing space for "spirit" to flow in and guide us to our higher purpose and path.
Our adventure activities are designed to enhance and inspire our personal and spiritual growth. Snorkelling to explore reef and discover marine life, sailing with the wind as our fuel, yoga with the sand between our toes, fresh tropical fruits, warming sunshine, and lush rainforest to feed us fresh oxygen and keep us grounded on this adventure of a lifetime.
Be a part of a committed group of women to support each other to our most vibrant experience of health, our greatest experiences of joy, and to live our most impactful life yet. There are very limited spots available. We do this to foster greater connection in the group and support the journey of each individual.
We will be playing in the ocean and in nature, to connect to our childlike selves, finding immense joy, wonder, and awe as we explore and discover. Fostering deep gratitude, which is the foundation of our transformation.
Discover leadership skills from environmental activists and politicians, and soak in local wisdom with an indigenous community. Awaken your higher self and your greater purpose through daily yoga and meditation to strengthen and heal mind, body and spirit. Honour the divine feminine within us through ritual and ceremony.
What will I get from this program?
A breakthrough experience that redefines your understanding of who and what you truly are.
A taste of the Divine Goddess within—a soft, light, and fluid magic state—that redefines your understanding of who you are and the tools to come back to this state in "daily life."
A redefinition of the life, this world, and your place in it.
An understanding and training in your body, a release of the mental constraints, balancing of emotional body, and relaxing into unity consciousness.
Empowerment in your higher self, greater purpose, and lasting vision.
An appreciation of the true interconnectedness and joy of life.
What will I experience?
Daily yoga and awareness exercises to honour and awaken the body.
Vegan Ayurvedic Food to support your health.
Adventure activities to explore the exotic location and experience the natural beauty firsthand.
Practicing naturalist skills and learning recipes for personal enrichment of life.
Practice creating high level "Give Back" campaigns to encourage conservation in your community and circles.
Support through sisterhood and ritual during your physical and psychic blossoming.
What types of mermaids should join?
Women who are courageous enough to re-define who they are in the world, through feminine, positive, and fluid leadership.
Women seeking to find and harness the magic within, explore how to keep it flowing, and direct it towards something of importance.
Women who have an open mind and are curious about finding their edge in life and going outside of their comfort zone to discover themselves.
Women who want to explore their passions and purpose, practice using their VOICE, and inspire change through their unique message.
Women ready to adventure in exotic locations and form sisterhoods with incredible women.
Women ready to explore natural solutions—including beauty, youthfulness, increased energy, vibrancy, and optimal physical health.
Who is it not for?
People who do not want to grow or be challenged.
People not open to travel, adventure, cultural differences, and the special moments or challenges that can occur within each of those.
Those not ready to join a group experience and let go of boundaries.
Women who belittle others, judge or place themselves above others.
What kind of challenges do I support people in working on?
Anxiety and Overwhelm Relief

Confidence & Empowerment
New Zest for life
Community Cultivation & Leadership
Reconnect to the Elements
Increase Joy & Connect to childlike wonder
Clarity of Purpose
Overcoming Fear, Doubt, & Self-limitations