Plastic Free Travel Tips
Plastic Free Travel Tips
Traveling can put our plastic commitment to the test! We want to stay healthy, travel light, and relax on our holiday. However, with the right mindset, it can be incredibly enlightening and rewarding. With this awareness of our waste and plastic use, we find ourselves in unique travel experiences and having special interactions that enrich our trip beyond expectation.
The planning ahead is pretty simple since we don't want to carry around too many jars, bottles, bags, and knives. This will vary depending on the length of your flight/transit time, what sorts of amenities you will have when you arrive, and how long you will be gone. It is our food consumption and toiletries where we use most disposable plastics, so being prepared will serve you well.
Here is a detailed checklist to give you some guidance for traveling without plastics.
Remember, never put yourself in danger to avoid plastics. We are doing our best for the planet, but putting your health and safety at risk should always be your priority.
Carry On Packing List
Reusable Drink Bottle: Stainless steel is usually the safest to get through security.
Reusable cup: Ask the flight attendant to fill this with your beverage of choice. Sometimes they need a bit more of an explanation and sweet talking to avoid the little plastic cups.
Fruit: The most delicious treat when traveling—fresh, juicy, sweet! It is easy for fruit to get squashed with the shuffling of things, so I store the soft, vulnerable fruits in my reusable cup. Oranges are good, you can use the peel to wipe your face! It is a gentle exfoliator and the citrus acid acts as a natural cleanser.
Snacks in a Jar: I suggest preparing some healthy, yummy snacks, so you are not tempted by the plastic wrapped microwaved "food" they serve. Pardon if I sound like a snob, but if you would not eat a meal in the real world, do not sacrifice your body to eat a meal just because it is available! Most flights allow you food on the plane, just not off the plane. So you can pack fresh fruit, veggies, salad, seeds & nuts, trail mix, bliss balls, etc. Avoid liquids, as they can get confiscated. I like to toast seeds & nuts to store in a jar. I always reuse the jar during my travels.
Utensils: Bring a spoon and chopsticks in your carry-on. It will get you by for any meal. Forks and knives get confiscated at security.
Reusable bag: to carry all of this stuff! Also for when you go to the markets, so you are not tempted to use a plastic bag. (If you forget or buy more than the bag can take, ask if they have a cardboard box you could use, then recycle.) I also bring small reusable produce bags for loose spinach, dates, brussel sprouts, etc. It doesn't have to be a daggy reusable bag, perhaps even a nice beach bag or a hiking pack that doubles as a giant shopping bag. Give things multiple purposes!
Checked Bag Packing List
Tupperware: It can be useful to store things like electronics or cords or toiletries in a little box or container, that way when you need to contain a fruit salad you've made, pack a lunch, or take something to go, you have something available.
Utensils: In your checked luggage you can pack a fork or knife, and if you have one, a Leatherman tool comes in handy. It has a scissors, a few blades, screwdriver, and many other useful parts. A sharp knife is so helpful for slicing fruit.
Mini chopping block & towel: It is so handy to have a tiny little board to cut on and a dish towel ready to wipe everything clean, you can always improvise these on the go.
Water: If you are traveling somewhere you do not want to drink the water, bring a purifying UV light or filter, so you are not reliant on bottled water. Alternatively, you can use the kettle at the accommodation to boil tap water.
Toiletries: I make my own deodorant and toothpaste and pack them into small jars. You can up-cycle old travel containers or product tubes, fill one bottle 1/5 full with bicarb soda for shampoo and one 1/4 full of apple cider vinegar for conditioner. Once you arrive at your destination, fill them with water. Bring a bar of soap wrapped in a washcloth or in paper, lay the paper out to dry when settled. Toothbrush is bamboo, razor is a safety razor made of stainless steel. Sun cream is a mix of coco oil, shea butter, and zinc oxide.
Durable Clothes and Shoes: nothing single-use, especially flips flops. If they break, where will you dispose of them properly if there is no recycling where you are going?
In Transit
Tickets: Try to book everything online, so you don't have to print a ticket and ask them to email your receipt. Sometimes you cannot avoid the system, I haven't yet figured out how to avoid the luggage tag.
Security: They mandate we pack our liquids in a small plastic bag to go through security. I have a plastic bag that I reuse for this very purpose every time I travel. I received a recycled plastic bikini in this plastic bag, and was grateful to find such a worthy use for the bag! I can also reuse the bag during travels to keep my bar of soap separate or my DIY toiletries from leaking all over my bag.
Water: Keep your water bottle close, stay hydrated, empty it before security, and refill it after security for the long flight ahead. The flight attendants will be walking around with bottled water, but you will have your own! You can use your reusable cup to sip out of. If the flight attendant will not pour the drink into your cup, have a polite chat with her until you can come to some compromise.
No In-Flight Service: Avoid the plastic wrapped food, individually wrapped utensils, etc. It is not as good for you as fresh fruits and nuts.
Headphones: bring your own headphones, the airline will only replace what has not been used. If you leave the plastic wrapped headphones, they won't be singly used by you! If your headphones only hear sound through one ear, wriggle the connection port, sometimes it needs a bit of adjustment up and down in the port to send sound to both ears.
Be Assertive: Remember you have the right to refuse anything, you are a customer of these travel services, so assert yourself and your preferences.
Feedback: Complete online surveys and write customer service about your plastic free preferences.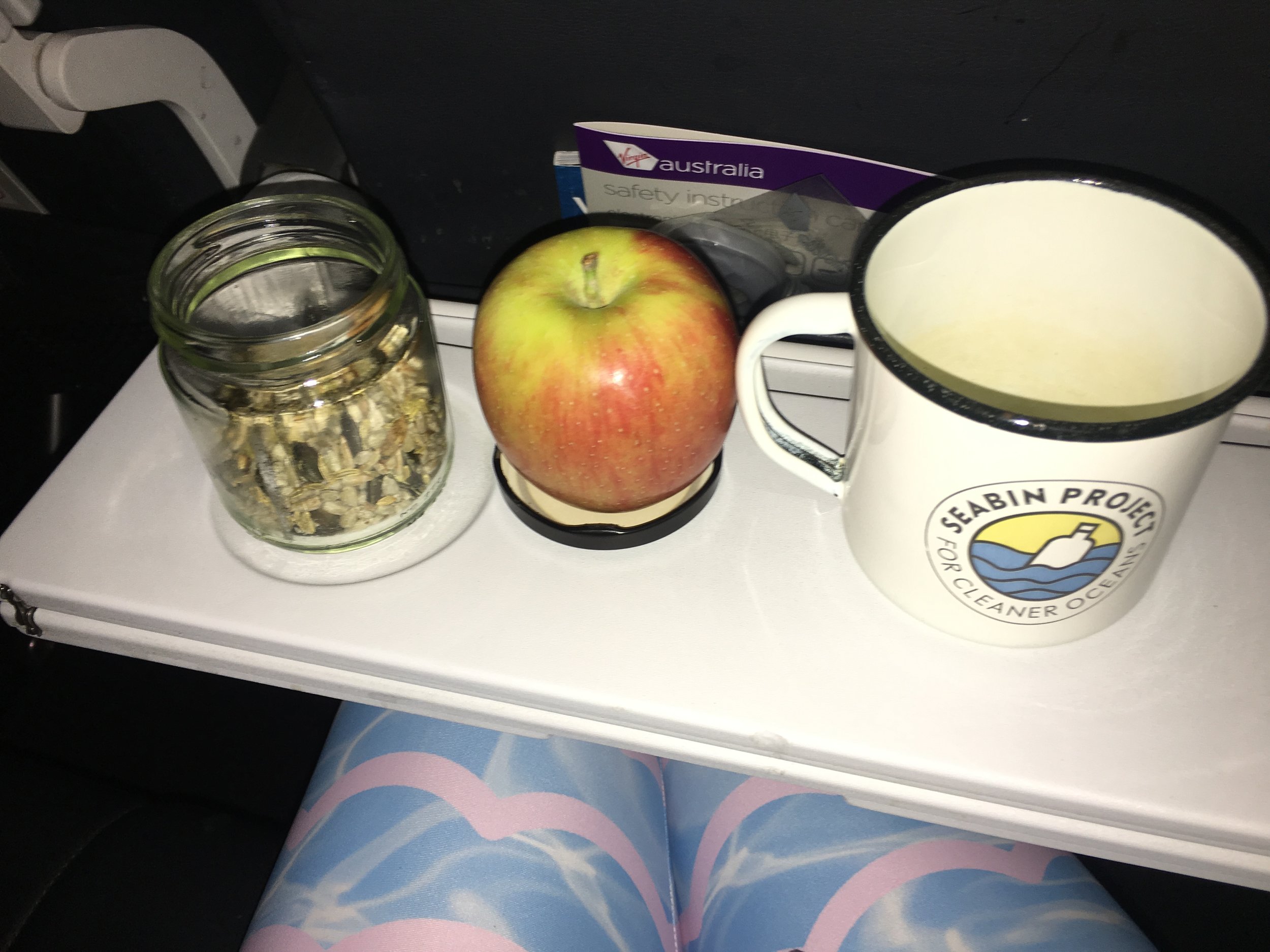 Upon Arrival
Water: Refill your water from the best source at the airport, like a tap from a restaurant. Use your own filter or every time you can, boil the water at the accommodation.
Money: Exchange your money at a teller, to avoid the ATM receipt.
Wifi: If you are getting a sim card, this is unavoidable plastic! If you come back to this country often, tape the sim card into the back page of your passport with the phone number, so you can reuse it.
Local Markets: Locate the nearest local markets. It is a wonderful way to learn what foods are in season and local, that way when eating out you know what to order to support local and avoid imported foods. It is also a chance to stock up on fresh produce, so that you always have delicious snacks when plastic packages seem all that is available. Plus you acquaint yourself with the local language and people! Such a rich experience.
Artisans: You might be able to support some local crafts folk hand making soaps and woven baskets. It's great to support people weaving wallets and bags from plastics, this incentivises cleaning up soft plastics and it prolongs the life cycle of this plastic trash, preventing it from going straight to the landfill.
Cocktails: You're on holidays, so enjoy yourself! Tell the waiter/waitress in advance that you don't use straws, because it pollutes the ocean and could end up in a turtles nose. (Cue youtube video). Or bring your own reusable straw!
Eating Out: Let the waitstaff know you are trying to be plastic free, so any sauce can go on the plate to avoid containers.
Street Food: Eat locally-grown, -owned, and made! Anticipate where they might put your food in plastic, and show that you can use a napkin or your own fork, etc. Be careful to only eat what looks fresh and delicious! Our bodies are amazing and can actually digest food better if we are happy and in good company. If you do feel like you have eaten something sketchy, take a diuretic to help flush the system of any bugs, such as dandelion or fresh coriander leaves as a tea.
Accommodation: Make use of the reusables available. If the hotel provides little plastic containers and toiletries like plastic wrapped soap, just do not touch them and keep their little arrangement pristine, so that they have no reason to throw them out. If you do not use them or touch them, the hotel is more likely to reuse them! Use the kettle to boil your water.
Give Feedback: Give positive feedback to those businesses that are low-waste. Politely give constructive feedback to businesses offering plastics and show that you are happy to bring your own bag, container, etc. and that you see plastics along the sides of the roads, so you are happy to stop using it. Especially feedback to accommodation providers, these are businesses who often ask for you to fill out a survey, so let them know why you prefer not to use the plastics and why it really is irresponsible to distribute so much single-use plastic. Offer suggestions and solutions! Look for a feedback card in your room. Speak to the manager, if possible.
Do Micro Clean-ups: Show you care about where you travel, lend a hand to keep it clean and set an example for other tourists!
Go With the Flow: This is the best attitude to have when traveling regardless of your waste consciousness, but especially when it comes to dancing your way around plastics. It might not be as comfortable as normal, but perhaps that is a sacrifice worth making for the luxury of travel!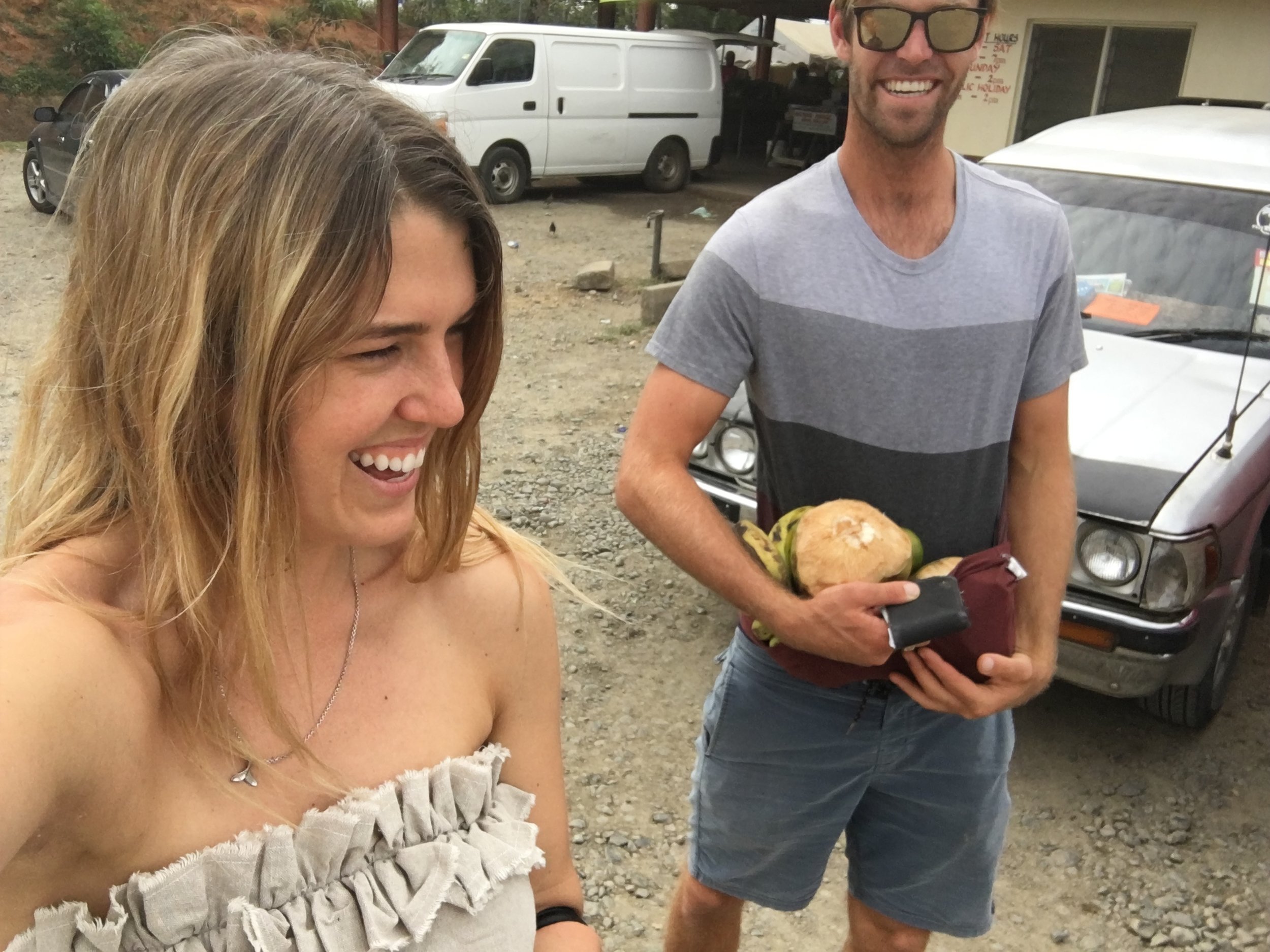 Good luck, go with positivity, and always do your best!